A moment of tenderness with your baby
Updated on March 22, 2023
Created on May 9, 2019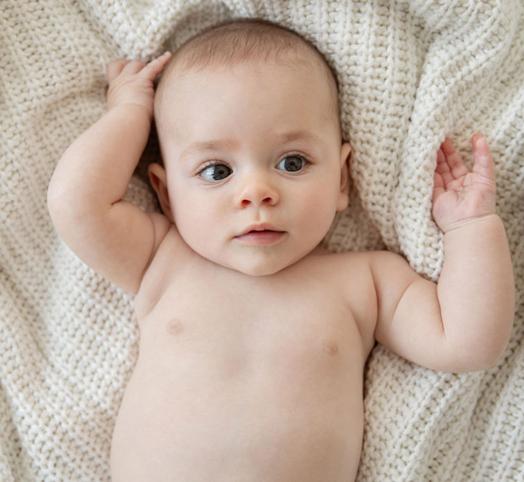 An excellent source of relaxation and well-being, massage has many benefits for your baby.
An excellent source of relaxation and well-being, massage has many benefits for your baby. It fosters early learning, helps the baby become aware of its body, soothes the baby and prepares it for sleep, and may also help relieve minor stomach problems. But massage is also a special and tender moment of bonding between you and your infant. Try out our helpful tips for massaging your baby!
Getting started
• You can massage your baby from birth to the age of three and even later if your child continues to enjoy these sessions.
• Choose a quiet time when you're fully available so that you can calmly devote yourself to the massage without being interrupted. • Perform the massage in a warm, quiet room (around 22°C/72°F) with subdued lighting.
• Place the baby facing you on a towel or blanket on a bed, changing table or the floor (on a soft rug).
• Your hands must be clean and warm and your nails short.
• Remove anything that can prick the baby's skin, like your jewelry.
• Use a massage oil specially made for babies. Spread it on your hands and rub them to warm up the oil before touching the baby.
• Your baby's skin should be healthy and not irritated.
• Don't massage the baby if he's sick or immediately after a feeding or meal.
Massage techniques
Massaging is different from caressing: your touch must be warm and soft but firm, with stimulating and enveloping pressure. The session can last up to 30 minutes if your baby seems to enjoy it. The baby may, however, seem reluctant the first few times. In that case, stop after a few minutes and try again the next day or a few days later.
You may want to try out the following techniques to massage your baby:
• Start by gently massaging the shoulders, starting with the neck then moving down the arms without forgetting the hands and fingers.
• Then, with a flat hand, massage the chest and stomach by making clockwise circles. Next, place your hand crosswise under the chest and move down gently, then repeat with the other hand. Don't press down; the weight of your hand is sufficient.
• Hold your baby's foot with one hand and with the other hand, massage from the calf to the thigh, then toward the hip.
• Cradling the baby's foot between both hands, gently massage from the nails to the heel. Move back towards the nails and massage them one by one, then gently stretch them upwards all at the same time.
• For the hands, massage the palm with gentle, circular movements then gently stretch each finger. To think about in wintertime: annoyances associated with the first cold spells can interfere with your baby's comfort and interrupt their sleeping. To help with this, gently massage a soothing comfort balm into their chest.