Baby cleansing: rituals to be adopted for atopic-prone skin
Updated on March 22, 2023
Created on May 9, 2019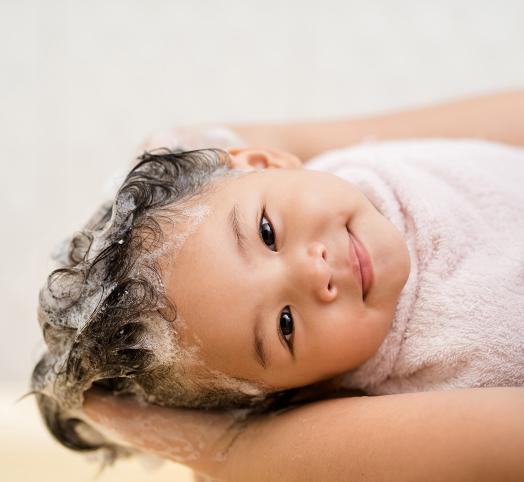 Atopic-prone skin, also called atopic dermatitis, affects one child in five.1, but atopic doesn't mean atypical. If the signs of this eczema are unpleasant (redness, itching sensations, dryness, etc.), they are not rare, nor contagious to other children, and not irreversible.
Written in partnership with Dr. Clarence De BELILOVSKY, dermatologist member of the Mustela experts circle.
 
The ideal bath
 
If adults usually like to enjoy a warm, relaxing bath after a long day, it is not the best thing for the skin – especially for children with atopic-prone skin. Indeed, a warm bath will contribute to reducing the oily layer essential for defence of the skin barrier (read our file on atopic-prone skin).
Is this a reason to completely avoid baths? Not necessarily, especially if your child loves playing in the bath. You could let him have two or three baths per week. The only precaution required is to let him have fun and play for only 10 minutes in water between 35° and 37°C. And for greater peace of mind, and even greater efficiency, you can add some baby/child-specific bath oil. Two or three capfuls of oil are sufficient, and there are a lot of benefits: in addition to compensating for the drying effects of cleansing, the oil will help replenish the body and soothe itchy sensations instantly. It is also practical, with no need to rinse! 
The ideal shower

The rest of the time, it's better to pamper your baby with five-minute showers at a maximum temperature of 35° C. 
In order to avoid harmful factors on his skin, choose a soap-free product or a cleansing gel with the same physiological pH as the skin. Even better, try a baby-child cleansing cream for atopic-prone skin to give him great comfort. Perfectly suited to the body or face, it will completely clean your baby while protecting him. From birth onward, it will soothe your baby and leave his skin supple and silky soft while reducing itchy sensations. There's another advantage to make you happy: it doesn't sting the eyes! 
When drying the body, avoid rubbing it: dabbing the body with a towel is the ideal solution and much more delicate. Another required precaution: remember to cut your nails regularly and to remove your jewellery before washing your baby to avoid scratching him by mistake. Now everything is in place to offer him a moment of true tenderness!